Senior Living Community
Outdoor Activities for Seniors in Battle Creek, MI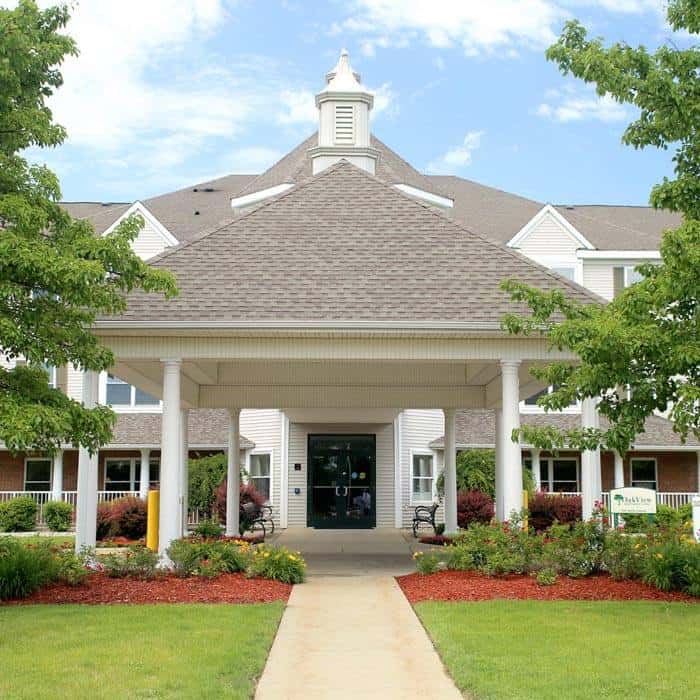 Outdoor Activities for Seniors & Caregivers
Experience resort-style living and an abundance of the best outdoor activities for seniors at NorthPointe Woods, nestled in the scenic beauty of Battle Creek, MI. We believe that an active and engaging lifestyle is key to enhancing overall well-being, which is why our community offers a wide array of outdoor amenities and activities designed to cater to every interest. Set within 50 acres of beautiful forest, our surroundings provide the perfect backdrop for outdoor exploration and relaxation. Seniors and their caregivers can enjoy leisurely walks along our scenic trails, taking in the fresh air and natural beauty. We also have well-maintained outdoor spaces where residents can gather for social activities, picnics, or simply to enjoy the sunshine. At NorthPointe Woods, we prioritize the well-being of our residents and strive to provide an enriching outdoor experience that enhances physical and mental well-being. Contact us today to schedule a visit and start exploring the vibrant outdoor lifestyle that awaits you at NorthPointe Woods.
Life Enriching Activities
At NorthPointe Woods, we believe in providing a vibrant and engaging lifestyle for our residents through a wide range of life-enriching activities. From fitness classes, arts and crafts, and educational programs to social events, outings, and cultural activities, there is always something to keep residents engaged. We carefully curate our activities to cater to diverse interests, ensuring that residents have ample opportunities to pursue their passions, learn new skills, and stay socially connected.
The dining experience at NorthPointe Woods is designed to be both delicious and enjoyable. Our talented culinary team prepares flavorful and nutritious meals using fresh, locally sourced ingredients. Residents can savor their meals in our inviting dining room, where they can socialize with friends and neighbors. We also offer a private dining room for special family gatherings and celebrations, allowing residents to create lasting memories while enjoying their favorite dishes.
At NorthPointe Woods, our staff is dedicated to providing compassionate and personalized care to each resident. They undergo extensive training to ensure they have the skills and knowledge needed to meet the unique needs of our residents. Our caring staff members foster a warm and supportive environment, always ready to lend a helping hand and create meaningful connections with residents. Their dedication and commitment play a crucial role in fostering a sense of belonging and well-being within our community.
Perks You'd Never Get Living at Home
Choosing to live at NorthPointe Woods offers a plethora of perks that you simply wouldn't get living at home. First and foremost, our community provides a vibrant social atmosphere, where you can easily connect with like-minded individuals and forge new friendships. Our extensive range of amenities, including a fitness center, game room, library, and activities room, ensures that there is always something exciting to do. Additionally, our dedicated staff members are on hand to provide assistance and support, helping you maintain an active and fulfilling lifestyle. From delicious dining experiences to organized outings and events, living at NorthPointe Woods offers a remarkable level of convenience, engagement, and enjoyment that would be challenging to replicate at home.
"There is a true sense of community about NorthPointe Woods. It's a feeling that you get the moment you walk through the door. With friendly staff and residents who extend a welcoming hand, you will feel supported and inspired to achieve all that you can every day, whether you need independent living or assisted living."
Meet our leadership team.
Our licensed and certified team fosters strong relationships with our residents and their families. You can trust us to form deep connections so we can understand your loved one and fulfill their needs.
Meet the members of our advisory board.
Our non-profit community is cared for by a locally-sourced Board of Directors. Members of the board know our community through and through, ensuring they make decisions that genuinely benefit and enhance the lives of our residents.
Jamie Schook
General Board
David Schweitzer
General Board
Ken Swisher
General Board
Contact NorthPointe Woods Today
Elevate your retirement experience with resort-style living and a wealth of fun outdoor activities for seniors at NorthPointe Woods in picturesque Battle Creek, MI. Our community offers a captivating blend of natural beauty and vibrant amenities, providing seniors with endless opportunities to embrace an active and fulfilling lifestyle. Whether you're seeking peaceful moments surrounded by nature or engaging in social gatherings in our outdoor spaces, NorthPointe Woods has it all. Don't miss out on the chance to enjoy the best that senior living has to offer. Contact us today to schedule a visit and discover the remarkable outdoor lifestyle that awaits you at NorthPointe Woods.